Off-page SEO, the ultimate guide
Off-page SEO may seem daunting, but with our ultimate guide, you'll be an expert in no time! Learn everything from the basics of link building to more advanced techniques like social media marketing and content syndication. By the end of this guide, you'll have all the tools you need to boost your website's visibility and search engine ranking!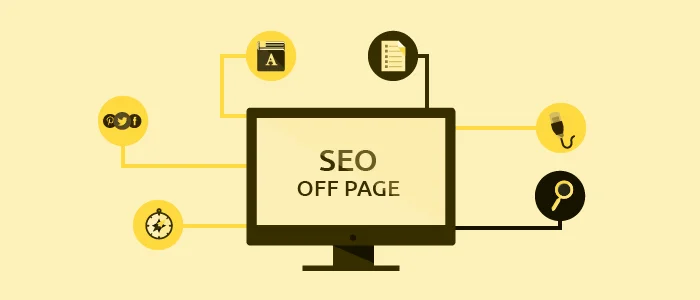 What is off-page SEO, and why is it important?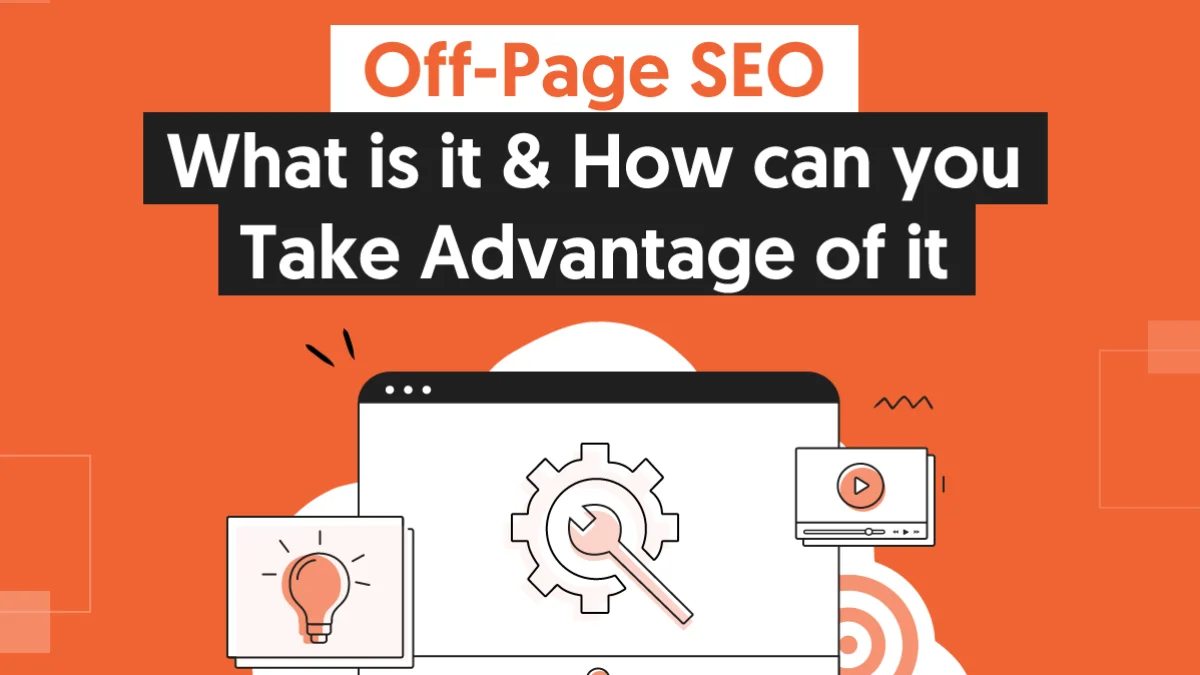 Off-page SEO is a set of methods to increase a website's or web page's visibility in search engine results. Its purpose is to create backlinks and drive awareness of your content so that more search engine users can access it.
Off-page SEO techniques include submitting websites to directories, linking building, social media activities, and content syndication. Although all of these techniques are important for providing visibility to your content, one of the most crucial components is link building because it helps to create connections with other valuable web resources and build credibility for your website.
Link building allows you to establish relationships with reputable websites, leading to higher search engine rankings and broader industry coverage. Off-page optimization also plays an essential role in helping Google identify the best sources for specific searches allowing you to target potential customers more accurately and efficiently.
The difference between on-page seo and off-page SEO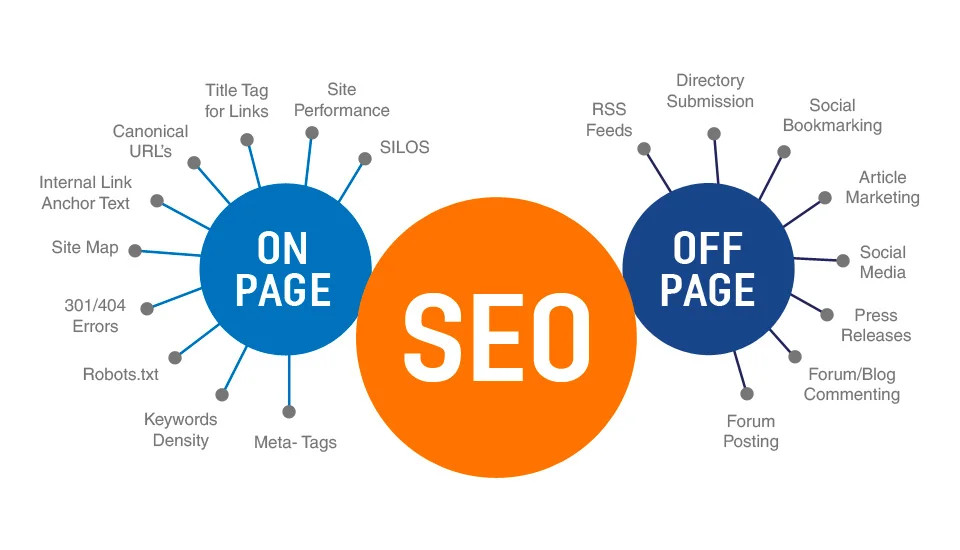 On-page and off-page SEO are distinctly different yet equally important components of a successful search engine optimization strategy. On-page SEO consists of optimizing the elements within a website, such as meta tags, content, and images.
Optimizing those elements improves a website's visibility in search engine results. Off-Page SEO, on the other hand, refers to activities outside of an individual website that can benefit its rankings – these activities are usually related to link building and external awareness.
Increasing external awareness through blog posts, press releases, social media, and other tactics makes it possible to have a strong presence among many leading search engines, which can lead to long-term success. Together, on-page and off-page SEO form an effective combination that can result in higher rankings for any website.
How to optimize your website for off-page SEO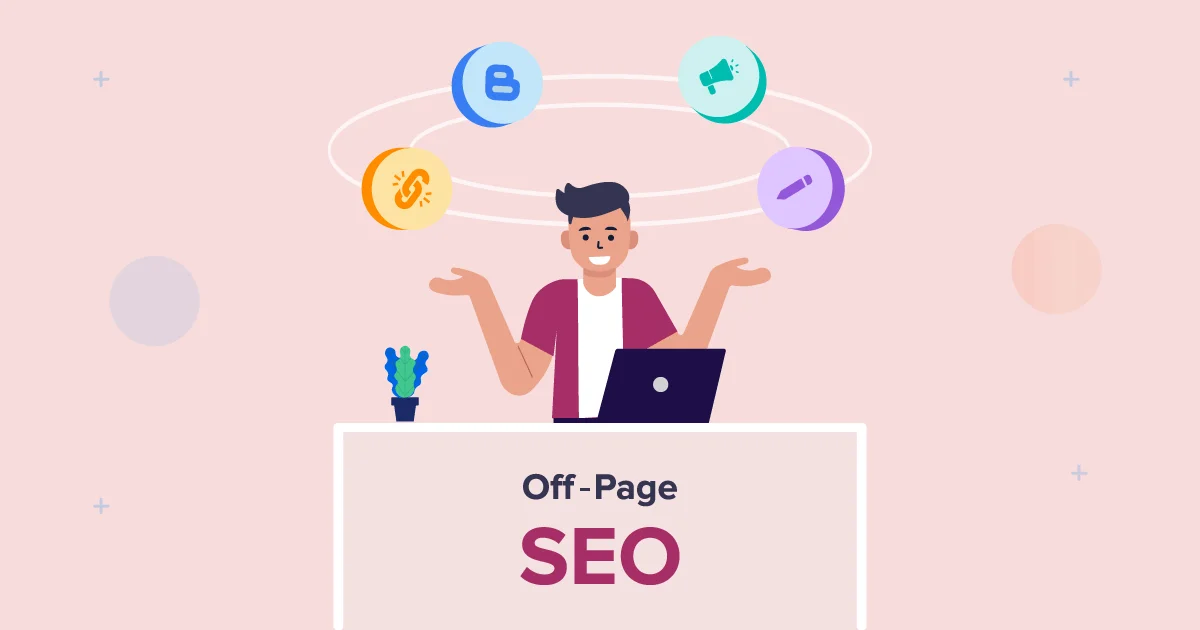 Optimizing your website for off-page SEO can be essential to any successful digital marketing strategy. The first step is to create a robust link-building campaign to generate high-quality inbound links to the website. A could do this through several approaches, such as guest blogging, building thought leadership content, and pursuing collaborations with related websites. Additionally, it's essential to obtain social media mentions whenever possible since this will help further boost visibility on popular search engine platforms.
Finally, it's wise to engage in consistent monitoring of link quality and also tracking of all relevant metrics regularly. Successfully applying these tactics can dramatically improve website rankings and organic search traffic.
Get Authority Backlinks
Without backlinks, ranking on the first page of search results is impossible.
Did you know that 99% of Google's top search results contain at least one external link to your site?
Did you know that Google receives about 100 billion monthly searches for services, content, and products? And mobile devices account for half of all searches.
As far as content marketers and bloggers are concerned, backlinks are the most significant aspect. Why? Because if your website has relevant and authoritative backlinks, search engines will trust it more.
When Google scans the web for new information, it indexes your new pages and makes them searchable.
Google employs several algorithm criteria to determine which pages will rank when relevant search queries are triggered. In SEO terms, we refer to these as Google ranking factor criteria.
Here are the essential elements that Google takes into account when ranking websites:
The number of domains linking to each other.
One of the most crucial ranking criteria is the number of sites linking to your site.
The domain authority (DA) of a linked page.
Links from websites with high DA are considered more beneficial than those with low DA. Yes, it would help if you strived to get links from sites with a high domain authority (DA).
The number of pages linking to each other
It is always a good idea to have more links from different domains than just one.
The authority of the linking domain
A link from a low DA page on a high DA site is preferable to a low DA site.
Count how many do-follow links there are
Since Google has indicated that no-follow links are not considered in the ranking, it only finds do-follow links.
Contextual links
Links within the page's content are more valuable than those outside it.
Links on the home page
Links on the home page of a linked domain carry more weight than links on one of its pages.
Link relevance
For search engines, links from pages related to your page's topic are more relevant.
If you have many backlinks from authoritative domains, Google considers your website more valuable than others. Google examines link-related questions, such as "Where did the link come from?". "What is the source of the link?" "How current is the link?" and "How good is the link?". Etc.
So how do you get those authority links?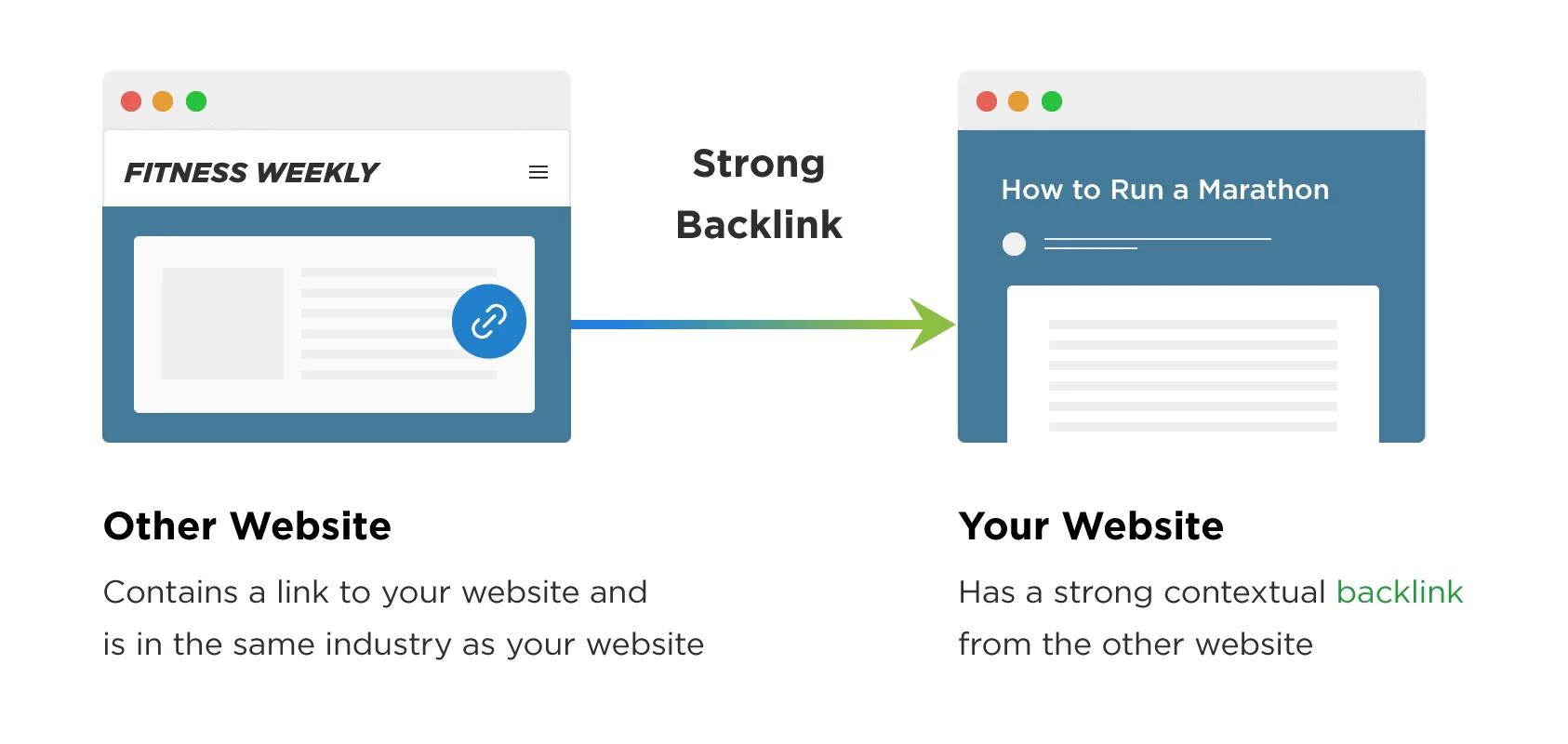 1. Guest blogging
Undoubtedly, guest blogging takes a long way and helps you develop high-quality links.
The only challenging aspect of this task is that you must thoroughly research the topic.
Next, research the top blogs in your niche and pitch your idea to them. Your article will be published if they agree.
2. Broken Link Building with aHrefs
Broken link building with Ahrefs
This strategy is significantly faster than guest blogging regarding getting links. You may be surprised to learn that many links on some authority blogs are defunct.
Why does this happen? The links are bound to break if the hosting expires or the sites are changed or removed.
One advantage is that broken pages do not influence your site's rating. However, it is the worst experience. According to Sacramento Design Network, if your customer service is poor, you can lose 85% of your business.
Therefore, analyze the backlinks of websites in your niche. Find broken links and contact the owner to inform them about it. There is a chance that they will return the favor by posting your link on their site or providing you with a substitute link.
3. Create infographics
You always get impressive results if you use solid data to build them. If you have the funds, you can find expert infographic designers on Canva.
Infographics are the most effective way to attract a large audience and get authority backlinks because visual content appeals more to ideal customers than plain text.
If you promote an infographic enough, it will go viral. People who share your infographics drive organic traffic to your blog regularly. After all, you've created backlinks.
The top ways to improve your off-page SEO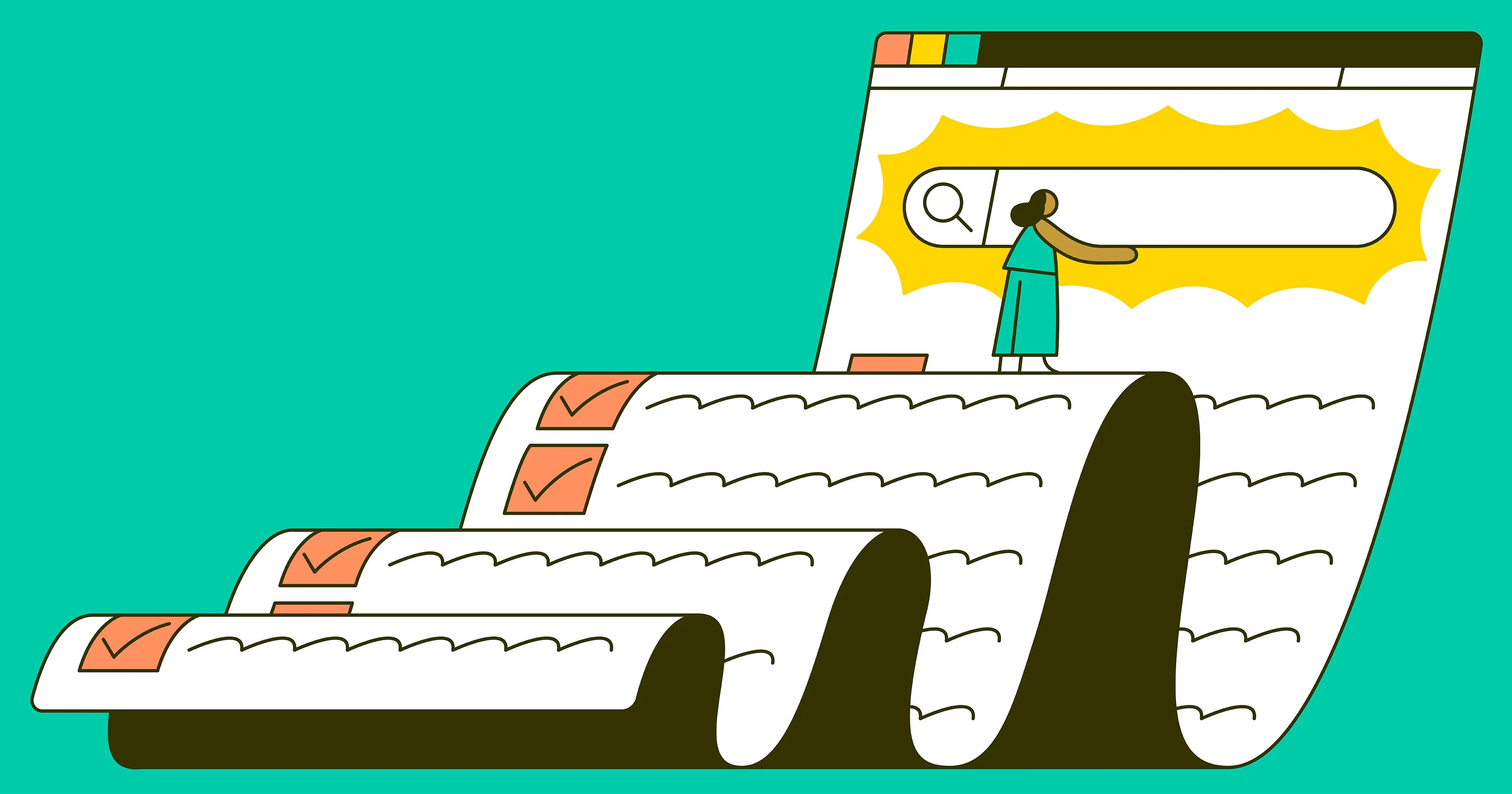 Improving your off-page SEO can feel daunting, but it doesn't need to be. There are some practical steps you can take to boost your off-page SEO that doesn't require complex or technical solutions.
To start, try improving your backlinks' quality by checking for broken links regularly and only building links on reputable sites. It would help if you also looked into generating more organic traffic by engaging in social media marketing, developing relationships with influencers, and increasing brand exposure through ads.
Additionally, incentivizing content creators to link to your site or offering reviews and testimonials for others can also help improve off-page SEO performance. You will quickly see positive results by utilizing best practices within these top ten methods for improving off-page SEO ranking.
How to measure the success of your off-page SEO efforts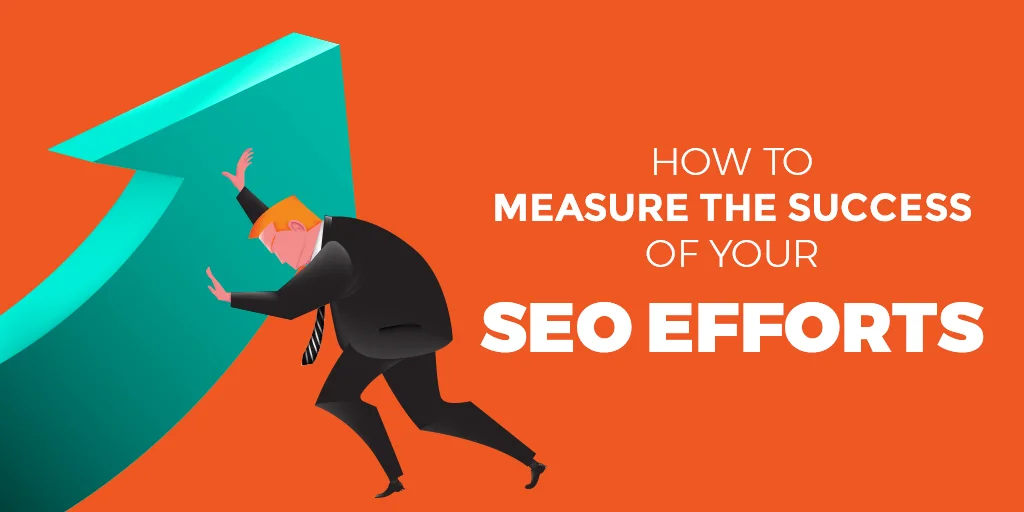 Measuring the success of off-page SEO efforts is an essential part of marketing and can be achieved through simple tracking methods. Analyzing link-building efforts and observing changes in organic search rankings are the two most common – and effective – ways of doing this.
Additionally, evaluating your web traffic in terms of referral sources (the websites linked to yours) can provide valuable insight into how successful your off-page SEO efforts have been.
Regular tracking and analysis make it possible to accurately measure the success of your off-page SEO campaigns, helping to prioritize future efforts for maximum impact!
Best Seo apps
One of the principal utilities of SEMrush is that it can use to do complete keyword research: we can start studying a keyword, check if there is a better one with the same search intent, look at which URLs are already positioning it and take those URLs as a reference to create a better content to be placed.
In the same way, SEMrush helps study the competitor's Ads campaigns and improve them to get competitive advantages.
SEMrush allows us to observe the evolution of the competition, what backlinks they use, and from how many domains. SEMrush is useful for many different points of interest.
Plans & Pricing
When we think of SEO tools, we always think of specific functionalities such as keyword research, tracking, and tools that allow you to perform SEO audits.
Luckily, Surfer SEO is more than that.
Surfer SEO is an On-Page SEO tool that allows you to take action with actionable recommendations.
And I emphasize actionable recommendations.
With Surfer SEO, you stop being someone who only learns SEO and becomes someone who knows and applies SEO. We leave so much theory and move on to practice, which is the only thing that will make our blog or that of our clients to be positioned on the first page.
Surfer SEO defines itself as: "We analyze more than 500 on-page signals in the blink of an eye, and with that, we give you the perfect recipe to get better rankings".
Plans & Pricing
Ahrefs is a tool for monitoring inbound links (backlinks) with great accuracy and speed. Ahrefs will help us discover the links being created toward our domain. But not only will it help us to find the links pointing to our domain, but we can also know the volume of links from our competitors.
We discover the inbound links of our competitors. In that case, we can better understand their link-building strategy and find interesting platforms to leave our link and, above all, provide value to users.
Unlike other tools, Ahrefs updates its database daily. This way, we can know the links created to our domain almost in "real-time."
Plans & Pricing
High-quality SEO keywords are essential for your website or blog if you want to rank higher in search engine results and get more traffic. Fortunately, there are a number of ways to research which keywords will work best for you. Once you've found the right keywords, it's important to use them strategically throughout your website or blog content to optimize your site for better search engines
Link your blog to other websites
The most effective method to get quality do-follow backlinks is guest posting. It is the safest technique to boost your off-page SEO without risking a drop in rankings.
What are the benefits of collaborating with other websites?
It helps develop your authority.
It has the potential to send you a lot of referral traffic.
It helps build links.
Don't go overboard with linking to your site when writing guest posts for other websites. It ruins your relationship with the website owner. Even if you are writing a guest post for someone else, make sure the material is fantastic. You'll have to deal with more problems with low-quality guest posts.
Write excellent content and promote your material.
Conclusion
Off-page SEO is just as important as on-page SEO, if not more so. Following the tips in this blog post can improve your off-page SEO and see real results for your business. Just remember to be patient – Rome wasn't built in a day, and neither is a successful off-page SEO campaign. Do you have any other tips for improving Off-Page SEO? Let us know in the comments below!
In the link below we will leave you a video guide in case you have any doubts so you can follow more steps and learn more.
Is SEO a one time thing?
SEO isn't a one-time event, it's an ongoing journey! As user preferences evolve and change over time, so too should your SEO strategy. Each month you must assess the keywords and phrases that are being used on your website to ensure they remain relevant and useful for both Google search engines as well as users who visit the site. With regular attention devoted to SEO optimization, websites can stay up-to-date with current trends.
Is SEO a waste of money?
Search engine optimization (SEO) can be an enormously beneficial investment for businesses of all sizes, as long as it's done properly. From small start-ups to large corporations, deciding how much and who to invest in when developing your SEO strategy is key; a decision that may mean the difference between success or becoming just another forgotten website on Google.
What industries need SEO the most?
Many companies can benefit from SEO, but startups and businesses in high competition markets are especially likely to see positive results. These include SaaS & online services, niche-focused businesses exclusive to specific locations, medical professionals like doctors or dentists, lawyers at law firms , and maintenance service providers.
What is SEO visibility?
SEO Visibility acts as a guide to measure how visible your website is in organic search results. This index can be used to analyze problems and uncover opportunities for improvement, ensuring that you reach maximum visibility with potential customers accessing through desktop searches.